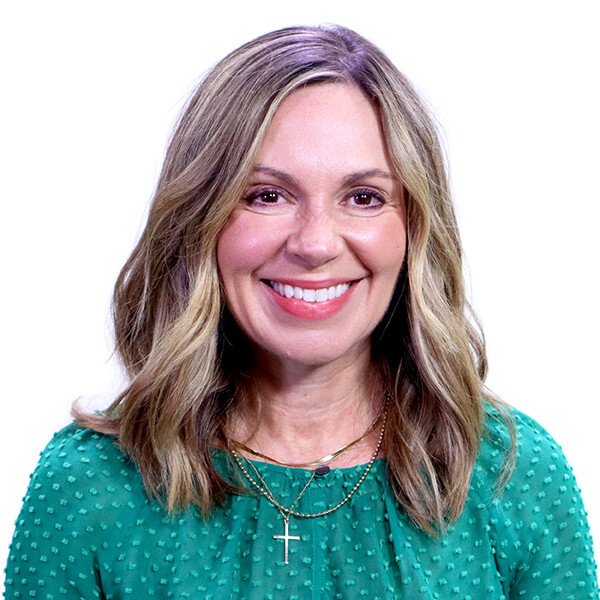 Heather Johnson
Coram Deo Academy 1st Grade Teacher
Heather grew up on a farm in a small community just outside the Quad Cities, and she accepted Jesus as Lord and Savior when she was twelve. She graduated from Illinois State University (B.S. and M.S.) and the University of Iowa (Ph.D.); and spent many years in higher education, teaching and conducting research within the health and exercise science field.
While Heather's childhood acceptance of Jesus as Lord was sincere, she drifted throughout college and her young professional years. She put Jesus on the back burner, making academic and career achievements her "idol." It wasn't until a series of extremely heavy life experiences—spanning over a decade—that the Lord began to really call Heather back to Him. "With each difficulty, the Lord chipped (sometimes clubbed) away to humble and refine me, and I gradually learned how much I needed to lean on Him. I'm a work in progress, but I've learned to surrender more joyfully to His will in EVERY part of my life." Heather has felt led to use the gift of teaching and love of learning that the Lord has given her in a way that glorifies Him. When the opportunity at Coram Deo Academy came about, she knew that this was where He wanted her to be. She is so grateful to be part of CDA, where she can, not only help young people learn and grow academically, but to do so through a biblical lens!
On a family level, Heather has been married to her husband Brandon since 2004, they have been members of Coram Deo Bible Church since 2010, and they enjoy serving in Children's Ministry together. They have one energetic, joyful son, Colton; and a sweet-natured, golden retriever, Nala. As a family, they love the outdoors, family movie nights, Whitey's ice cream, and getting together with family and friends over a meal or around a fire. Outside of teaching, Heather loves hiking and running, water sports, writing, organizing, and cooking healthy meals for her family. She is so very thankful for the Lord's faithfulness and the life He has given her!
Heather currently serves the 1st Grade Teacher at Coram Deo Academy.
---