Women's Fall Studies
Coram Deo Women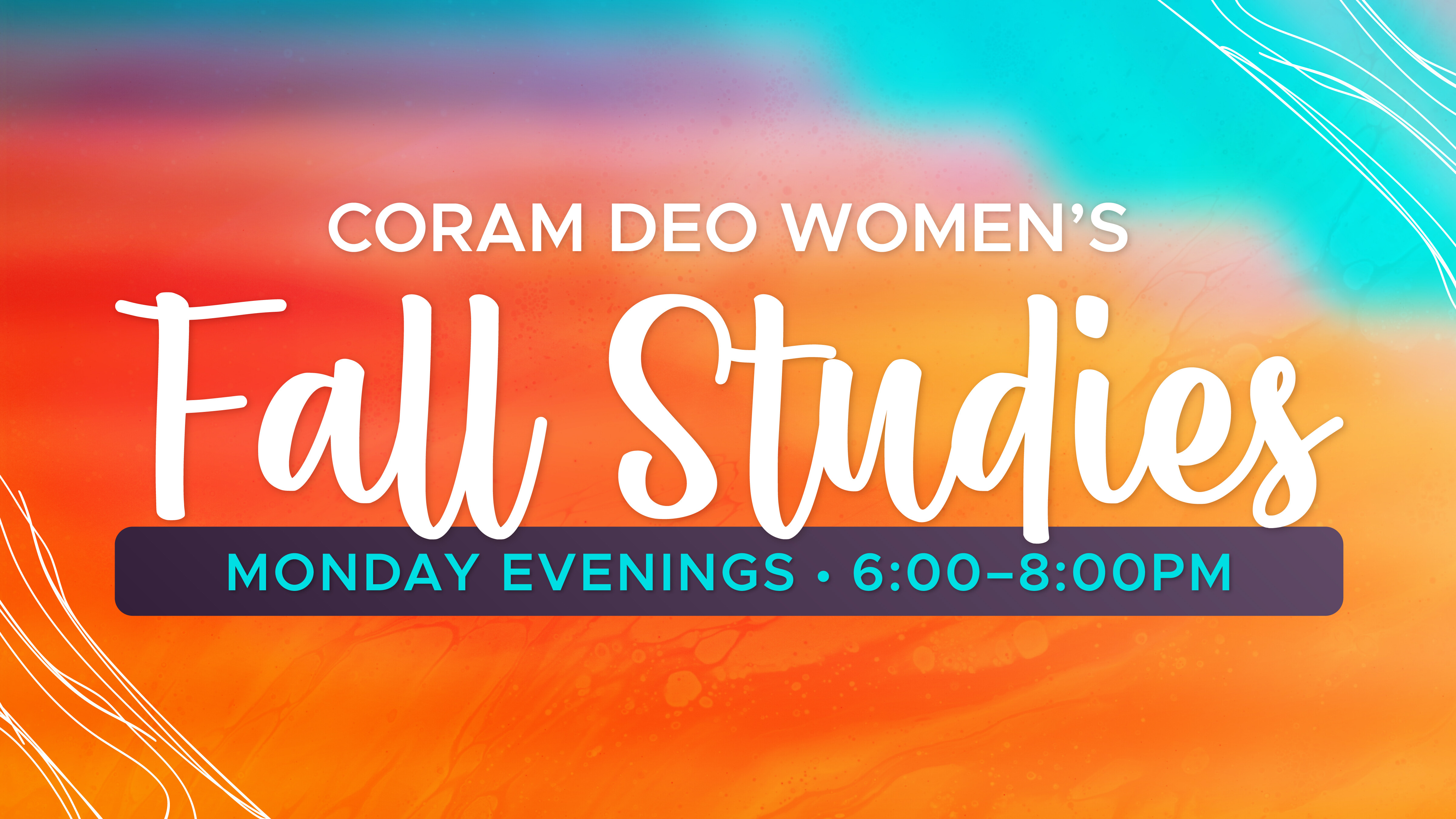 Women's Fall Studies
Monday Evenings • 6:00–8:00pm
Begins September 12, 2022


Ladies, be encouraged, edified, and uplifted through teaching, prayer, accountability, and biblical discussion in our Women's Bible Studies this fall! Studies combine large group teaching with a small group discussion format. Childcare is not available on Monday evenings.
Studies Offered This Fall:
Steadfast: A Study of the Book of James
A Study by Courtney Doctor
James longs for the readers of his book to be steadfast—faithful regardless of their circumstances. In a world where so much can undermine our faith or pull us off track, steadfastness is often a rare trait. James' letter meets us in our suffering and sickness, our trials and temptations, our wealth and poverty, and our ups and downs.Through this study, we will confront our sin, our speech, and our pride. We will be encouraged to be doers of the Word and resilient in our faith.
Come dive into this study of the book of James featuring keynote teaching videos from The Gospel Coalition's Women's Conference.
Teaching Format: Video
Cost: $10/person
Valiant: A Study on Being Strong in the Lord
A Study by Barbara Wilson
As women desiring to live godly lives in Christ Jesus, what does it look like to be strong in the Lord and glorify God with a valiant life? Come join us as we discover that—through diligent and consistent reading, studying, and application of the Word of God—we can be joyfully valiant. Together, we will study God's character, our identity in Christ, obedience, prayer, forgiveness, suffering, humility, and so much more!
Written by Barbara Wilson, author of "Wife of Noble Character," you will be challenged, encouraged, and uplifted through live teaching each week as we grow together through this study.
Teaching Format: Live
Cost: $25/person
Register
Registration opens July 25 and ends September 5
Walk-in registration will be available on September 12 & 13
---
Can't join us on Monday evenings?
Join us on Tuesday mornings (9:15–11:15am) instead! Free childcare is available on Tuesday mornings for preschool children birth–5 years old.